Yava Labs' fat burner powder is a complex formula designed to increase fat metabolism, reduce hunger, and speed weight loss. Researches have frequently dismissed fat burner powders and termed them ineffective and even dangerous, but several natural supplements have been shown to aid in the safe burning of fat. For this reason, our product is derived primarily from the seeds, barks, and roots of plants. Yava Labs' Fat burner powder supplement incorporates various ingredients that work together to ensure exceptional efficiency.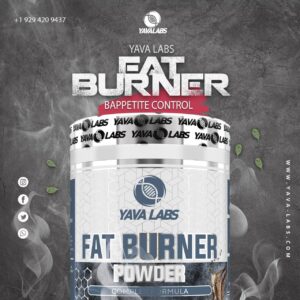 Green tea extract, for instance, contains caffeine and polyphenol epigallocatechin gallate (EGCG), both of which are fat-burning compounds. Furthermore, these two compounds work in harmony to help you burn fat to generate heat through a process known as thermogenesis.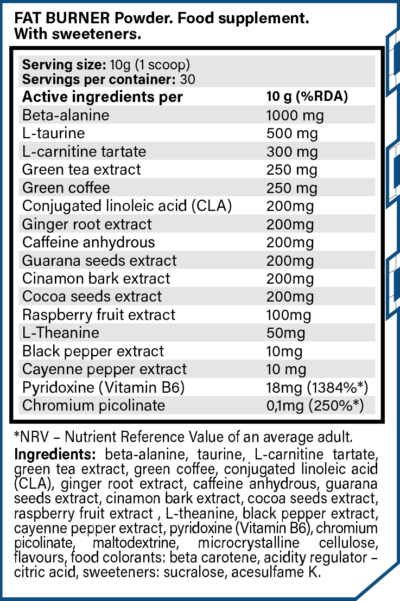 Similarly, the L-carnitine, an amino acid found in nature, and the CLA in the product, a type of omega-6 fatty acid,  aid in fat loss. The Beta-alanine in the product boosts performance by boosting exercise capacity and reducing muscle fatigue.  Additionally, caffeine and green tea extract are the most effective at aiding fat loss, and both are present in our product. When combined with a healthy diet and exercise routine, the supplement safely burns fat faster.
Our fat burner powder has unique mouthwatering flavors, including lemon, cola, and blueberry. The 300grams container is generous enough to provide 30 servings, each 10g (1 scoop). The active ingredients in each serving are beta-alanine, taurine, L-carnitine tartate, green tea extract, green coffee, conjugated linoleic acid (CLA), ginger root extract, caffeine anhydrous, guarana seeds extract, cinnamon bark extract, cocoa seeds extract, raspberry fruit extract, L-theanine, black pepper extract, cayenne, Pyridoxine (Vitamin B6), and Chromium picolinate.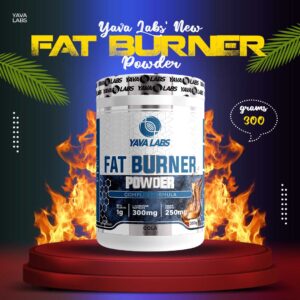 Suggested use: For 10-15 minutes, boil 1 scoop (10g) of powder in 400-500 ml water. Sieve with a clean cotton cloth. Drink it twice a day.
Warnings: Do not use if you are allergic to any of the supplement compounds. Do not use during pregnancy and nursing. Do not exceed the recommended daily dose.  Food supplements should not be used as a substitute for a varied and well-balanced diet. A balanced diet and a healthy lifestyle are recommended.
Storage:  Store in a tightly closed, original container, at room temperature, protected from light, and Keep out of the reach of children.
You can use the form below to contact us for wholesale or more information about products and our team will be in touch with you soon. You may use the contact information below to reach us. 
info@yava-labs.com

Yava Labs
1040 1st Ave  #2058
New York, NY 10022